Custom Designs for the St. Louis Cathedral in New Orleans and for the Shrine of the Immaculate Conception in Washington D.C., St. Augustine Basilica, St. Augustine, Florida

           June 2009                                                     April 2009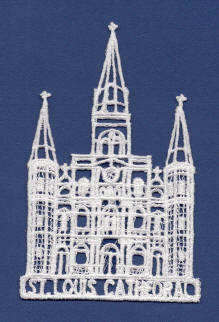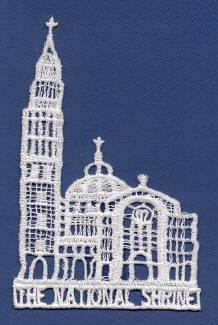 *********
                                                                        April 2014
                                                         *************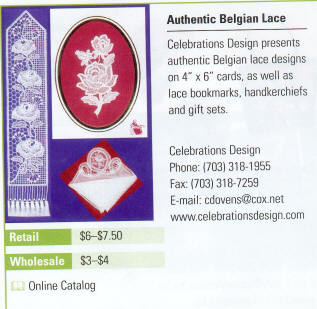 ************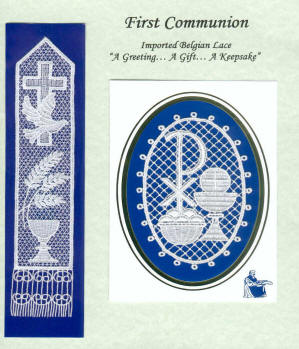 ************

                                                                            ************
August, 2006:
 I
n the Summer edition of the Museum Store New Product News magazine, Celebrations Design products were featured as a "precious discovery" and "an artistic accomplishment in fabric".
February, 2006:
Retailers asked us for higher value packages for them to sell as gift sets.  We are proud to announce that starting in February 2006 these gift sets are now available!!  We took bookmarks, cards, and handkerchiefs of matching designs.  We put these together on an appropriate background in a cellophane hanging bag creating an attractive gift set.   We have special sets for First Communion, Confirmation, and other special occasions.  Take a look at our special gift set page!
December, 2005:
The  Shrine of the Immaculate Conception is located in Washington D.C.  The Shrine is visited by many religious pilgrims year around.  The Shrine has a gift store and book store who just received their own special Belgian lace bookmark!  This bookmark was custom designed for  the Shrine.  It shows the beautiful building itself as well as the antique "M" for Maria that is featured throughout the Shrine.
Excerpt from the Christian Retailing magazine, April 4, 2005: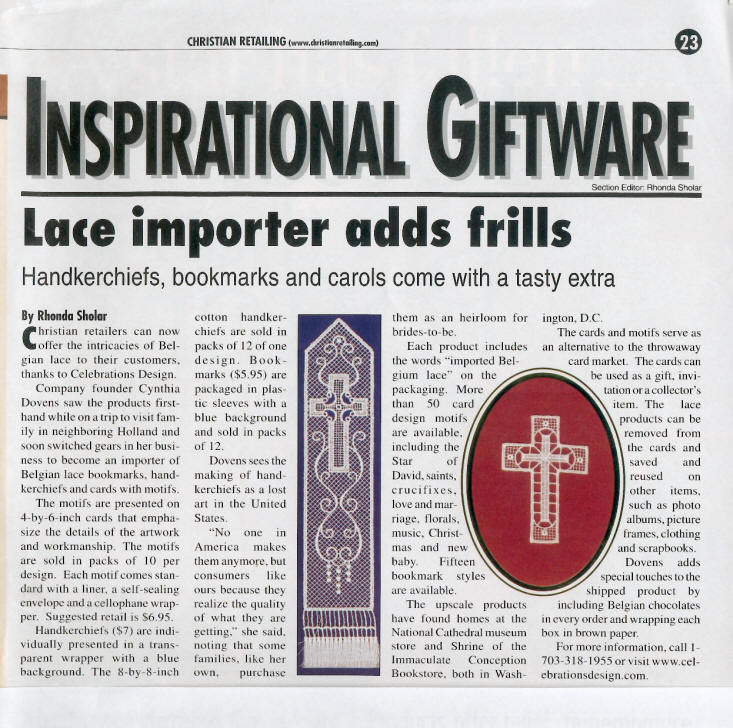 Contact 

cdovens@cox.net

for orders, questions, or comments.  Cynthia Dovens (703) 318-1955